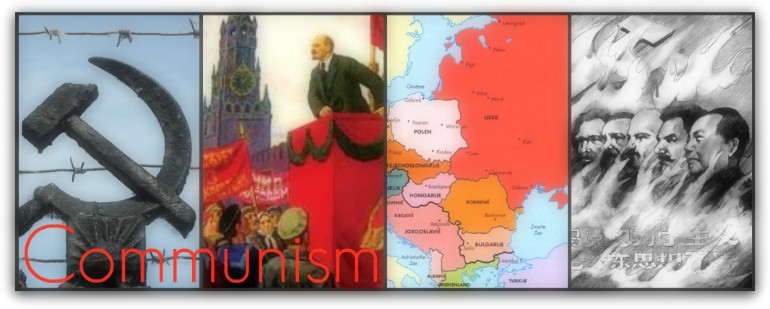 Communism is a social, political and economic ideology that aims at the establishment of a classless, moneyless, stateless and socialist society structured upon common ownership of the means of production. This movement, in its Marxist-Leninist interpretations, significantly influenced the history of the 20th century, which saw intense rivalry between the "socialist world" (socialist states ruled by Communist parties) and the "western world" (countries with market economies and Liberal democratic government), culminating in the Cold War between the Eastern bloc and the "Free World".
Communisme is een sociale, politieke en economische ideologie die is gericht op de oprichting van een klasseloze, staatloze en socialistische samenleving opgebouwd op gemeenschappelijk eigendom van de productiemiddelen, waarbij eenieder produceert naar vermogen en neemt naar behoefte. Deze beweging, in de marxistisch-leninistische interpretaties, wordt sterk beïnvloed door de geschiedenis van de 20e eeuw, de intense rivaliteit tussen de "socialistische wereld" (socialistische staten geregeerd door de communistische partijen) en de "westerse wereld" (landen met een markteconomie en de "democratische" regering), met als hoogtepunt de Koude Oorlog tussen het "Oostblok" en de "Vrije Wereld".
In de praktijk wordt met communisme vooral de stroming bedoeld die teruggaat op de ideeën van Karl Marx (marxisme) en Vladimir Lenin (leninisme), en de uitwerking van die ideeën in de Sovjet-Unie en andere socialistische staten.